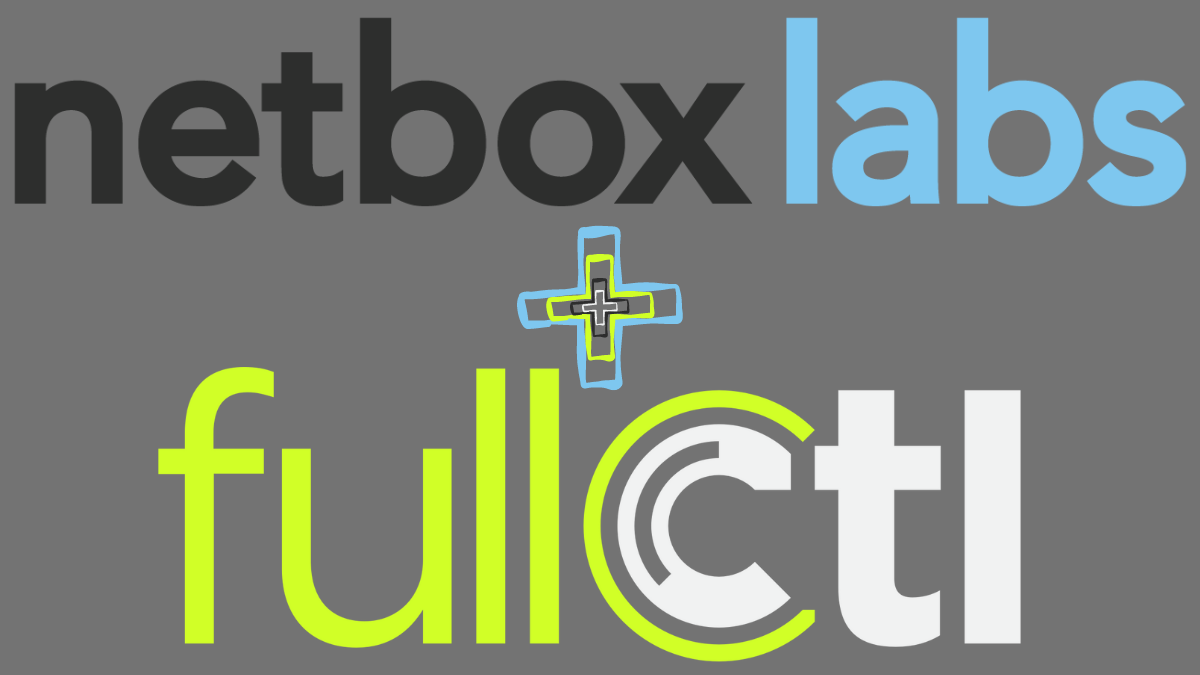 At FullCtl, we firmly believe that the future of interconnection lies in automation. In the dynamic landscape of modern networking, interconnection plays a pivotal role in connecting businesses and enabling robust and efficient data exchange. As the demand for interconnection grows, so does the need for automated solutions. I would go as far as to say that in today's rapidly evolving networking landscape, efficient and streamlined interconnection operations are crucial for businesses to thrive.
FullCtl is Partnering with NetBox Labs to Accelerate that Vision
That's why we're thrilled to announce our partnership with NetBox Labs, the company behind NetBox Cloud, an enterprise grade, SaaS version of open source NetBox: The world's most popular Network Source of Truth (NSoT). By combining the power of FullCtl's intent-based interconnection management platform with NetBox's robust network infrastructure management capabilities, we are driving a new era of automated interconnection.
Automating Complexity: FullCtl's Interconnection Management Platform
Interconnection management can be a complex endeavor, often involving intricate processes and tasks requiring specialized knowledge. At FullCtl, we've built our interconnection management platform from the ground up to simplify modern network operations. Our intent-based automation platform eliminates the complexities associated with interconnection and BGP, empowering organizations to focus on what they do best.
FullCtl's Product Suite: Streamlining Interconnection Workflows
Our product suite consists of two primary offerings: PeerCtl and ixCtl.
PeerCtl revolutionizes all forms of BGP peering (bilateral, multilateral, PNI, and even transit and transport connections) by automating workflows and providing comprehensive, automated management capabilities. With PeerCtl, network operators can streamline peering request workflows, automate BGP configurations, and adhere to best practices such as as-set filtering and ROA validation.
ixCtl, on the other hand, caters to Internet exchange (IX) operators, providing automation for IX operations. ixCtl simplifies the management of route servers, customer portals, and crucial tasks like MAC address filtering, prefix limits, as-sets, and prefix-lists.
Additionally, ixCtl and PeerCtl both seamlessly integrate with PeeringDB, enhancing operational efficiency and enriching the information available in NetBox.
NetBox: The Foundation of Interconnection Infrastructure
NetBox, as the world's most popular Network Source of Truth, serves as the cornerstone of interconnection infrastructure management. This robust solution handles various aspects of network management, from physical components like power systems and cabling to virtual assets such as IP addresses and VLANs. By leveraging NetBox's comprehensive capabilities, we at FullCtl can offload the burden of managing these elements and focus on interconnection automation.
The Power of Collaboration: FullCtl and NetBox Integration
Recognizing NetBox's strengths, we have strategically integrated our products with this industry-leading SoT. This collaboration allows us to provide an enhanced automation experience that seamlessly manages interconnection tasks.
When working with Internet Exchange operators, our ixCtl integrates with NetBox to manage devices, IP addresses, circuits, and power, ensuring a holistic approach to interconnection operations. Our integration also facilitates the import and export of data between ixCtl and PeeringDB, streamlining IX operations and enriching the information available in both systems.
Similarly, when collaborating with networks of varying sizes, our PeerCtl product leverages NetBox's capabilities to manage devices, IP addresses, circuits, and power. PeerCtl automates peering request workflows and BGP configuration, leveraging data imported from PeeringDB to simplify peering selection. The seamless bidirectional data flow between PeerCtl and NetBox ensures that the SoT remains up-to-date with any changes made through the automation platform.
A Unified Solution: The Orchestration Power of Referee
To further enhance the interconnection automation architecture, we provide an orchestration engine that we call "referee." That's right, it's named after the brave folks who get out on the playing field and ensure the rules are followed in the heat of any game. This powerful package seamlessly integrates with NetBox, PeerCtl, and ixCtl, handling the actual configuration of network devices based on changes in the joint SoT. With referee, organizations can achieve a unified and orchestrated network environment, minimizing manual intervention and reducing the risk of errors.
The Bottom Line
The future of interconnection is undoubtedly automated, and at FullCtl, we are at the forefront of driving this vision forward. Our partnership with NetBox Labs brings together our powerful interconnection management platform with NetBox Cloud's comprehensive network infrastructure management capabilities. By harnessing the automation potential of FullCtl and the robustness of NetBox, organizations can streamline interconnection operations, save time, and achieve unparalleled efficiency.
To learn more about this groundbreaking partnership, we invite you to attend the upcoming webinar hosted by NetBox Labs and FullCtl on 21 July. Register now to secure your spot and gain valuable insights into the future of interconnection automation.
Additionally, we encourage you to read NetBox Labs' announcement of this partnership (and the press release) to gain a deeper understanding of why NetBox and FullCtl are better together. Their perspective highlights the symbiosis of our solutions and our respective roles in driving interconnection automation.
For more information about NetBox Labs and their enterprise-grade, SaaS version of the open-source NetBox, the world's most popular Network Source of Truth, visit their website. Discover how NetBox empowers organizations to manage their network infrastructure with confidence and efficiency.
Together, FullCtl and NetBox Labs are revolutionizing the way interconnection is managed. Embrace the future of interconnection automation with us and experience the transformative power it holds for your organization.