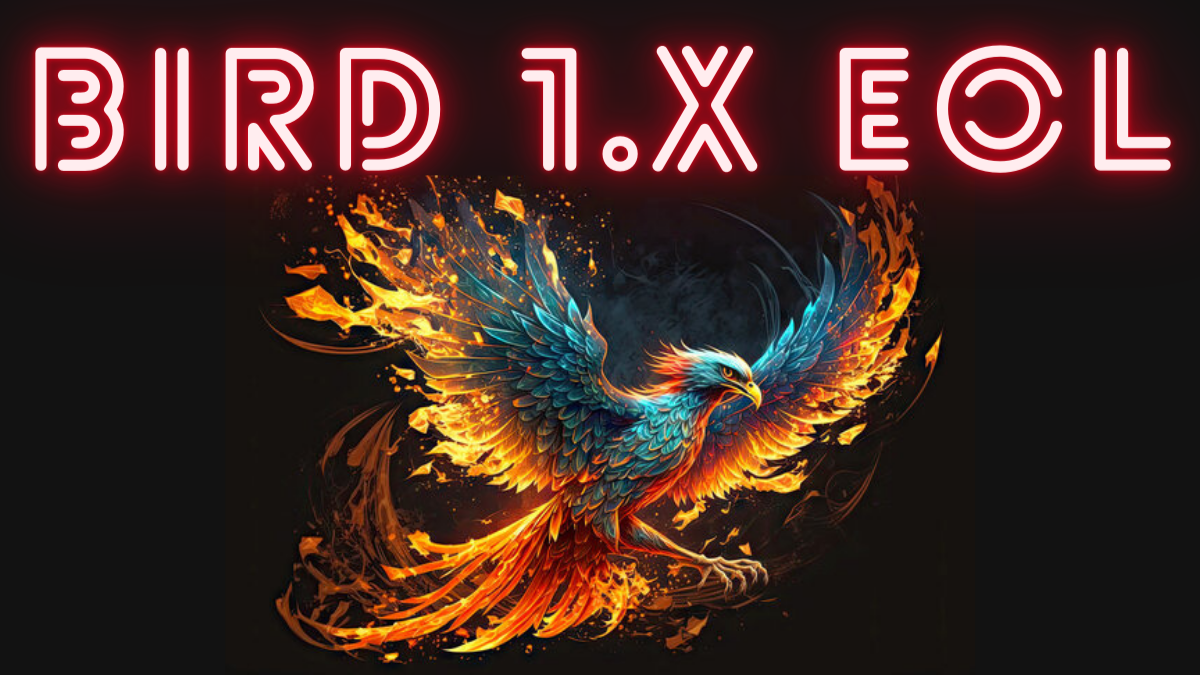 As we approach the end of 2023, an important shift is underway in the networking realm. The BIRD 1.x series, a longstanding open-source solution for routing Internet Protocol packets, is set to reach its end of life (EoL). This means that versions 1.6.8 and earlier will no longer be supported after this year. The logical step forward? Transition to BIRD 2.
TL

;

DR

: Upgrade to

BIRD

2!

For those operating in the network arena, especially Internet exchange operators, this news bears significance. BIRD, or BIRD Internet Routing Daemon, has been a reliable companion for managing kernel packet forwarding tables, facilitating the exchange of routing information between various routing daemons on the network. With the curtain falling on BIRD 1, it's vital to swiftly upgrade to BIRD 2. Doing so ensures that your network remains up to date with the latest features, security patches, and bug fixes.
Exploring
BIRD

: Its Strengths and Applications

If you're unfamiliar with the concept of routing daemons, let's break it down. BIRD is an open-source software that plays a critical role in managing kernel packet forwarding tables, enabling the dynamic exchange of routing information among different routing daemons on the network. BIRD is a free implementation of many well known and common routing and router-supplemental protocols, namely RIP, RIPng, OSPFv2 and v3, BGP, BFD, and NDP/RA. Additionally, BIRD supports both IPv4 and IPv6 address families, the Linux kernel (included in distros such as Debian, Ubuntu, and Fedora) and several BSD variants (tested on FreeBSD, NetBSD and OpenBSD). However, BIRD's uniqueness extends beyond its broad protocol and kernel support. It boasts native backing for multiple protocol instances and routing tables, ensuring flexibility in intricate networking setups. Moreover, its internal scripting language empowers administrators with programmable route filters, enabling precise and expressive route distribution. This very powerful language for route filtering is a large part of why BIRD has become the de-facto standard route server software at internet exchanges (IX / IXP) around the world. Moreover, BIRD adopts clear and structured configuration files, promoting ease of setup and management. Notably, it features an automatic runtime reconfiguration mechanism: when alterations are made to the configuration file and reconfiguration is initiated, BIRD seamlessly implements the required adjustments, ensuring minimal disruption to ongoing routing protocol sessions. Furthermore, BIRD distinguishes itself with comprehensive documentation, catering to both users and programmers alike.
Celebrating
BIRD

's Journey and Achievements

The roots of BIRD trace back to its origins as a school project at the Faculty of Mathematics and Physics, Charles University, Prague, in 1999. Since then, it has evolved into a pivotal component of networking infrastructure. Developed and nurtured by CZ.NIC Labs, the BIRD team has contributed significantly to this routing daemon's growth. BIRD's stability, flexibility, and efficiency have made it a favored choice in Internet exchanges like LINX, LONAP, DE-CIX, and MSK-IX, displacing less adaptable solutions. Notably, the 2012 Euro-IX survey highlighted BIRD as the most widely utilized route server among European Internet exchanges, underlining its reputation for reliability. And earlier, in 2010, CZ.NIC, the current sponsor of BIRD development, received the LINX Conspicuous Contribution Award for BIRD's contribution to advancements in route server technology. As we acknowledge BIRD's achievements, we express gratitude to the creators, maintainers, and contributors who have shepherded this project . The names Libor Forst, Pavel Machek, Ondřej Filip, Martin Mareš, Ondřej Zajíček, Maria Matějka, and others are synonymous with BIRD's growth, transforming it from a student project to a networking standard.
Embrace the Future with
BIRD

2

This juncture marks an opportunity to embrace progress. The conclusion of the BIRD 1.x series signifies not an endpoint, but a transition to the more advanced and feature-rich BIRD 2. With its enhanced support for IPv4 and IPv6 (BIRD 1.x supported either IPv4 or IPv6 protocol, but had to be compiled separately for each one. BIRD 2 supports both of them with a possibility of further extension), and continuing support for multiple routing tables, diverse routing protocols, and a potent filtering language, BIRD 2 is poised to continue the BIRD legacy. Though transitioning to BIRD 2 might involve some migration effort, the rewards are compelling. Upgrading guarantees that your network remains at the forefront of routing technology, ready to confront the challenges of the digital landscape.
BONUS

: "One Click"

BIRD

Upgrade with ixCtl

For those using ixCtl from FullCtl to manage their route servers, this transition is as easy as changing the value in a single drop-down. When logged into ixCtl, select the IX you want to make changes to, then click on the "Route Servers" tab, and finally click the "edit" button (looks like a little pen) for the route server you want to upgrade. Now just switch the "Type" drop-down from Bird to Bird 2.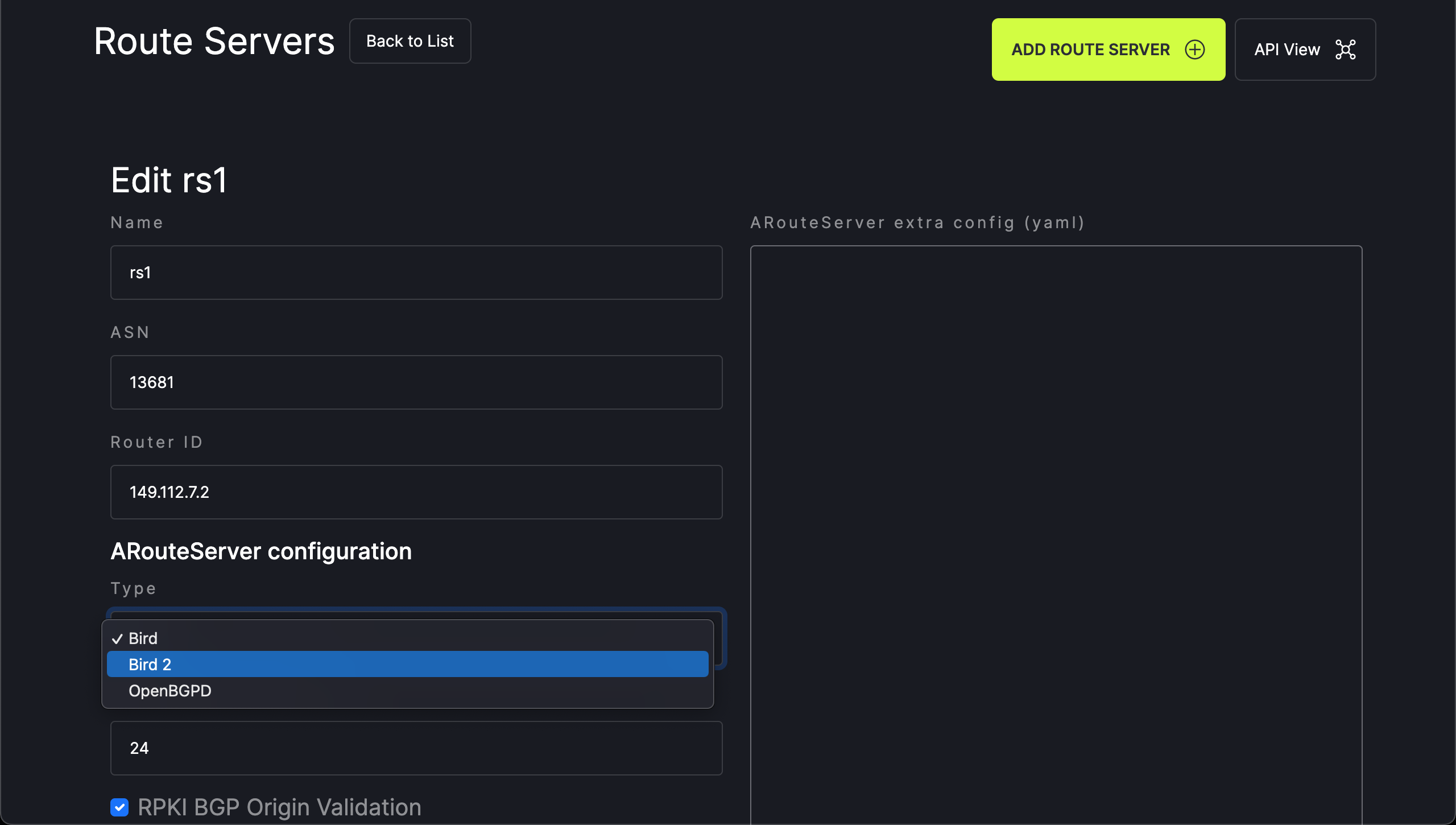 That's it. ixCtl will take it from here.
DOUBLE

BONUS

: "Zero Click" Upgrade for new ixCtl Users

FullCtl is currently offering free professional services for deployment of ixCtl for a limited time. And when we deploy ixCtl at your IX, it includes shiny new route servers - on the latest version of BIRD, of course (unless you choose otherwise for some reason).

That means that if you sign up for ixCtl before the end of the year, FullCtl will handle the BIRD 1 to BIRD 2 upgrade for you, and for free!

Create your account today (authenticate with PeeringDB for greatest advantage) and let us remove route server upgrades from the list of things that you need to worry about.