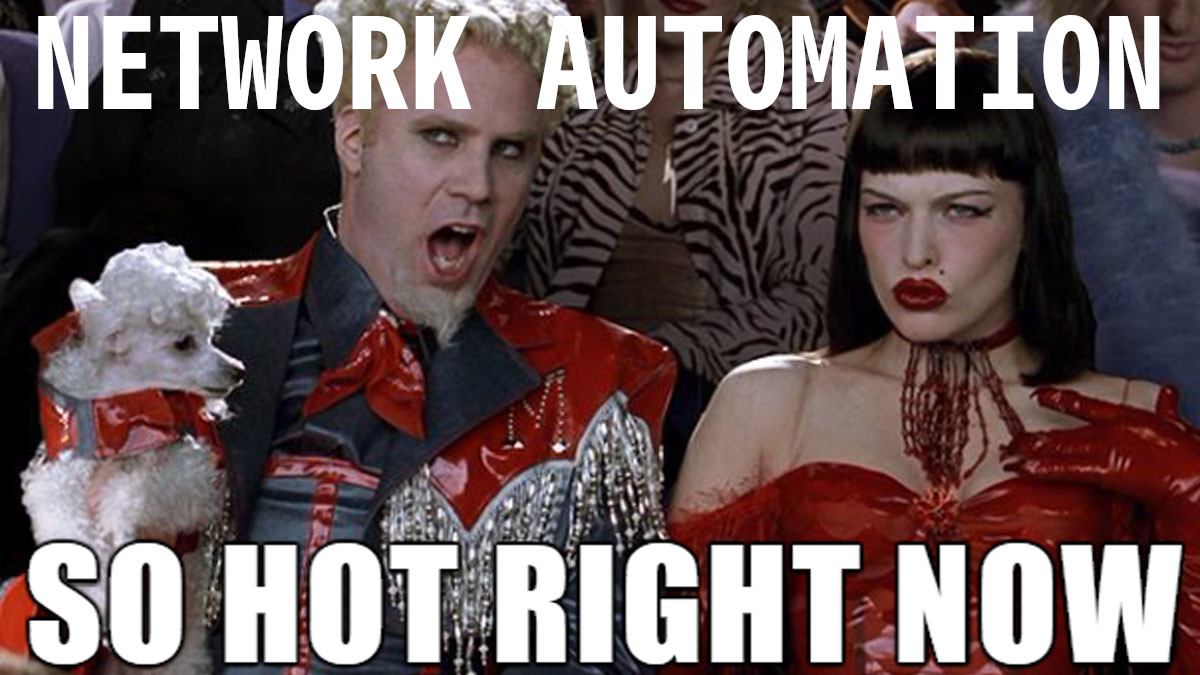 There's a lot of talk about network automation these days. In fact, it's hard to read a networking blog, listen to a networking podcast, or go to a networking event without hearing something about automation, APIs, or AI. And this makes sense, there is almost always more work to do than any of us can keep up with, and networks seem to be getting more complex every day. But how much network automation is actually deployed, in production, today? I'd like to find out — and I want to share what I find with you!
Network Automation is So Hot Right Now
I recently attended NANOG 87 in Atlanta, GA, US from 13-15 February. And over the 3 day agenda, there were five talks directly addressing automation, plus many more that referenced it at least in passing. Not to mention the fact that NANOG has gotten into the habit of hosting a hackathon on the Sunday before the conference; directly tying automation (in this case the theme was "interacting with sources of truth") into each of their three meetings each year.
Content at the most recent APNIC 55 in Manila, PH from 20 February though Friday, 3 March also trended towards automation in many cases. One of the five "pre-conference" workshop's was directly aimed to teach "Network Automation for Network Engineers" as was at least one tutorial during the "main event." APNIC 55 of course hosted it's own hackathon (in this case from Saturday into Monday). This year's event was focused on "Develop[ing] a framework for IPv6 diagnostics that will help organisations in identifying and resolving deployment related IPv6 issues, as well as improving the performance and security of IPv6 networks." In other words, using automation to solve a common networking challenge. And several other talks, tutorials, workshops, and conversations at least touched on automation briefly.
This focus on automation isn't new, either. I myself have been giving talks at NOGs about automation going back at least 10 years. And I am no pioneer, others were already there when I jumped on the automation train, so to speak.
And Network Automation Should be Hot!
And there are lots of great reasons for us to be spending so much time talking about automation. Deperimeterization and the move "beyond the firewall" caused first by cloud adoption and more recently enhanced through the growth in remote and distributed teams is making networking more complex. As are microservice based applications, bring your own device policies, the internet of things, and almost every other trend in computing and IT it seems is making the job of the network engineer more complicated.
There are lots of "things" that we could automate. From design and deployment through all kinds of provisioning and configuration tasks to troubleshooting, traffic engineering, and capacity planning. Not to mention firmware and software upgrades. And there are lots of automation tools available to us as well. We can write our own "scripts" or programs in one of many popular languages. Or, we can find an open source solution that works and apply it in our environment; with or without professional services or support contracts with the authors and/or maintainers. And of course there are also a plethora of commercial tools available to anyone with deep enough pockets.
But Are We Actually Automating?
With that backdrop, my biggest question is: Are we only talking about automation, or are we (collectively, as an industry) actually deploying and using automation in our networks?
It's helpful to know for several reasons and from several perspectives. At the individual level we may want to ask; "what skills should I seek and when?" And "who can I learn these skills from?" At the organization level there are other questions, like; "how do I compare to my peers?" And "what is the current state of the art?" In other words; "where are organizations like mins starting and/or finding success?" And at the level of the broader industry, we should likely ask; "where in the automation journey is the majority?" And "where might we look for (and ultimately solve) broad challenges to adoption?"
To answer at least some of these questions, Damien Garros and Francois Caen, along with many collaborators created and executed a series of three surveys. They took place in 2016, 2019, and 2020. The results are all available on GitHub.
The 2023 State of Network Automation Survey
This year, I'm picking up the torch. I have taken my own approach that surely reflects my unique perspective. I am committed to continuing this effort and improving the survey over time. While I know I can't provide all the answers, I do hope to illuminate some helpful clues.
I'd love your help! All you have to do is take the 2023 State of Network Automation survey.
The more participation, the better the results!
Next Steps
Once the survey closes, I'll aggregate, anonymize, and analyze, the results. Then I'll share the resulting report directly with everyone who participated (the only email they'll receive). And I'll submit talks to as many NOGs as I can to share the results live with an opportunity for Q&A. Plus I'll publish the report publicly for the greatest reach and effect. Following all that, I'll assimilate and and all received feedback and eventually build next year's survey.
For now, I ask you to complete this year's survey; and to watch out for results this summer!